Quick Mud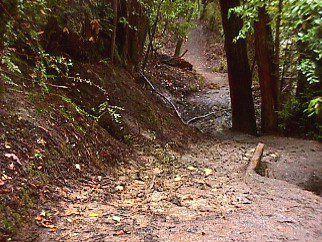 Trail Thoughts and Musings
El Niņo has brought more changes to the trail than fallen trees. The constant rain for such an extended time has saturated the soil. Where the ground is composed of forest soil combined with high percentages of humus, the trail stays in good shape. When the soil consists of a heavy clay concentration however, problems will occur. This stretch of trail is so slippery that keeping upright is a tricky endeavor.







---
Werner Hager at cyberguide@cyberhikes.com
Last updated July 20, 1998.
Copyright 1996, 1997, 1998 by Werner W. Hager and Micromoms. All rights reserved.